FACING FEAR


A documentary short film by Jason Cohen
DISCUSSION GUIDES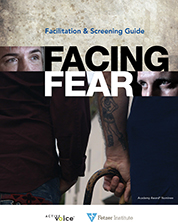 Through the power of Matthew and Tim's story, Facing Fear helps viewers get a glimpse of some of the most painful and tragic aspects of being human as well as the most redemptive.
We have developed two guides to help support individuals, families, students, educators, groups and communities in creating thoughtful, caring, and productive conversations around how we grapple with trauma, forgiveness, and one another in a complex, imperfect society.
---
Click here to download the Watch-Party Kit
HOST a Watch-Party in your living room for one of the many available broadcasts of
Facing Fear
. Use this simple and accessible kit to deepen discussion and reflect on the film.
Click here to download the Facilitation & Screening Guide
Whether you are a community leader, formal or informal educator, member of a faith community, or concerned individual, consider using
Facing Fear
and this guide to support discussions with a variety of groups and organizations, including those involved in:
Lesbian, gay, bisexual, transgender, and queer (LGBTQ) rights
Anti-bullying
Anti-prejudice
Bridge-building dialogue
Youth empowerment
Community building
Diversity and inclusion
Faith and service
Restorative justice
Criminal justice
The film is available for purchase through Bullfrog Films